This is a sponsored post written by me on behalf of Daytona Beach Area Convention & Visitors Bureau for IZEA. All opinions are 100% mine.
Goodbye summer, Hello fall! I don't know about you, but it's hard to believe that It's already fall! However, I must admit that fall is my favorite season of the year, so I am welcoming it with open arms. While most people love to travel and go on family vacations during the summer months, I actually prefer waiting until the fall season for many reasons.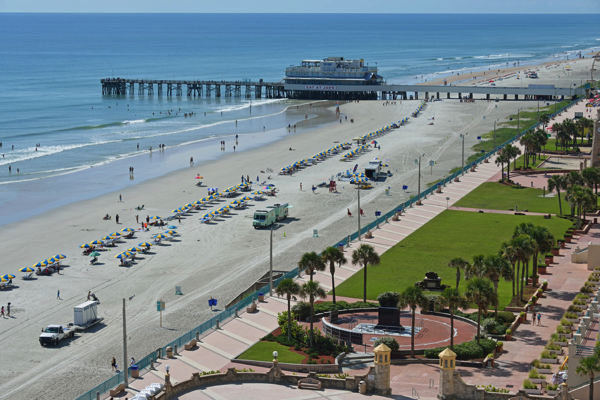 When many people think of fall, they also think about fall festivals. I LOVE FALL FESTIVALS! So, they are always on my list when looking for the perfect fall getaways. However, did you know Daytona Beach is known as the festival capital of Florida? The area hosts more than 50 festivals throughout the year, and fall festivals make this one of the best times of the year to visit.
[clickToTweet tweet="Did you know Daytona Beach is known as the festival capital of Florida? #lovedaytonabeach" quote="Did you know Daytona Beach is known as the festival capital of Florida? #lovedaytonabeach"]
So, this year Daytona Beach is one of our top destinations for our yearly couples only weekend. I would really love to check out the Daytona Blues Festival which I feel would be great for couples that enjoy blues music like we do. I also love that there is so many free things to do in Daytona Beach. I really want to check out the Mary McLeod Bethune Foundation Home & Gravesite. The Bethune-Cookman University is one of the richest resources of African-American historical and cultural exhibits in Florida. Then of course we could enjoy all the outdoor fun that Daytona Beach has to offer like the beautiful beaches and parks. So, as you can see Daytona Beach makes a perfect getaway for couples!
However, It's also a great destination for families! Daytona Beach has great kid friendly options if you are planning your Fall Family vacation. There is something for everyone! And trust me as a mom I understand that when planning a family trip you have to make sure everyone is happy and entertained the whole time. I feel that Daytona Beach has everything that would make your fall vacation everything that you are looking for to create those special memories!
Whether you are looking for a place to bring the whole family, or the perfect spot for a romantic getaway, Daytona Beach has lots of great options for your perfect vacation.
Start planning your trip today!
The beach awaits, to learn more about what Daytona Beach has to offer or to request your own travel guide click here.
Stay Connected:
For the latest news and updates, be sure to follow these social networks today!