This is a sponsored post written by me on behalf of Harvestland by Perdue. All opinions are 100% mine.
Meal planning is one of the most stressful parts of the day for me. From deciding what to eat to making a shopping list to going shopping and then coming home and actually cooking, I'm exhausted. (Not only that, but I'm also at home full-time with my daughter and working from home part-time!) I spend so much time worrying about what my daughter will eat and what my husband feels like eating that I forget to worry about the most important thing: eating healthy! As a military officer, my husband's health is very important. As a woman who suffers from ulcerative colitis, what I eat really matters. And with a daughter who I really want to teach healthy eating habits to, healthy food is everything. Due to all these factors and after some excessive reading, we decided that for our family, all-natural and organic food is one of those things we really want to pay attention to. To us, it's incredibly important. After we decided that eating all-natural and organic was one of our biggest goals and priorities, we looked around for quite a few meat options that felt safe enough for our family until we came across Harvestland® by Perdue®; a budget-friendly, antibiotic-free, cage-free option where the animals are fed an all-vegetarian diet with no animal by-products. Some of the all-natural meat options out there are really expensive, but Harvestland® by Perdue® fit both our budget AND our needs.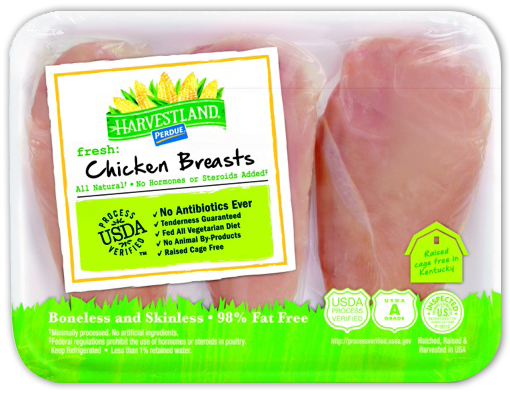 It doesn't get much better than that! Paired with their motto Eat Like Your Ancestors.
we knew we were really stripping the gross additives out of our meat and eating like we were meant to. We do a lot of our grocery buying in Wal-Mart and purchase it there.
Below is one of our favorite recipes to use it in: Baked Chicken Parmesan From Skinnytaste
Ingredients:
4 (about 8 oz each) Harvestland® by Perdue® chicken breasts, fat trimmed, sliced in half to make 8
¾ cup seasoned breadcrumbs (we prefer whole wheat)
¼ cup grated Parmesan cheese
2 tbsp butter, melted (or olive oil)
¾ cup reduced-fat mozzarella cheese
1 cup marinara (or pasta sauce)
Cooking spray
Directions:
Preheat oven to 450 degrees. Spray a large baking sheet lightly with spray (we usually put aluminum foil on the tray and then spray that).
Combine breadcrumbs and Parmesan cheese in bowl. Melt the butter in another bowl. Lightly brush the butter onto the chicken and then dip into breadcrumb mixture. (If you don't want to use butter, you can use a slightly beaten egg.)
Place on baking sheet and repeat with the remaining Harvestland® by Perdue® chicken.
Lightly spray a little more oil on top and bake in the oven for 20 minutes. Turn the chicken over and bake another 5 minutes.
Remove from the oven, spoon 1 tbsp sauce over each piece of chicken, and top each with 1 ½ tbsp. of shredded mozzarella cheese.
Bake for 5 more minutes or until cheese is melted.
Serve and enjoy! We love eating this with a side salad.
For the perfect, healthy meal, use Harvestland® by Perdue® chicken, pork, or turkey. We never regret adding delicious, affordable, and above all, healthy foods to our grocery list! I don't think you will either. Try it today and be sure to print this $1.00 off Harvestland Fresh or Frozen Chicken.