This is a sponsored post written by me on behalf of DoubleDown Casino. All opinions are 100% mine.
Becoming a mom or a busy professional (or even both) can really put a damper on your "down time." It is hard to get away from the house or work, and sometimes it can be expensive to go out and unwind. If you are looking for some good ways to let loose at home, check out the following. The best part is, they all cost less than $20.
At home spa: $10-$20, depending on what you buy. You can pamper yourself at home by doing your own nails, eyebrows, and giving yourself a spa mask or facial. You can either buy all the materials (some can be found at the Dollar Store for next to nothing) or you can find recipes to make scrubs and masks. Either way, set aside a night at least once a month to make yourself feel relaxed and pretty. Just run a warm bath and see to your own health and appearance.  
Read a book and sip some wine: $15. Pick up a book at the library or purchase an eBook, buy a bottle of wine you like, and unplug. Sip your wine and enjoy your book while being secluded in bed or an area of your home that promotes peace and quiet for you. Escaping in a book can help you forget the stresses of your day.  
Have a picnic: $5- $10. For less than it takes to go out to eat, you can make yourself a picnic and enjoy nature on your lunch break. Getting some, fresh air will help clear your mind, energize you, and make you feel more grounded. Escaping the office or the kids for even an hour a week can help you refocus and feel more prepared to take on your tasks.  
DoubleDown Casino: Free.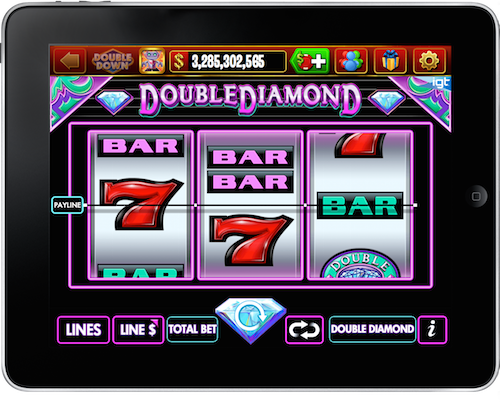 If you like playing casino or computer games, check out DoubleDown Casino. It's free and available every day with no locked content, meaning you won't get bombarded with requests to buy a subscription to upgrade the game. The most popular games are the slot games, of which there are 50 to choose from, but users also enjoy Bingo, Poker, Roulette, Blackjack, Daily Slot Tournaments, and Game King™ Video Poker.
If you have ever dreamed of going to Vegas, start here! DoubleDown Casino offers a Vegas experience without the Vegas price tag. When you sign up, you will instantly be given 1 Million Free Chips and each day you can spin the wheel for a chance to earn more free chips!
This is a wonderful way to unwind and disconnect from you daily routine, and you have the option of playing on mobile devices, your desktop, and even through Facebook. I love all the games but my favorite is Wheel of Fortune! I love the fact that I can play on my tablet and on my desktop!  
You are also able to play alone or with friends, anywhere and anytime you are able. It's open to beginners and experienced players, alike, and a fun, convenient way to relax whenever you need a break. Go ahead and play now, you know you want to!  
Color a picture: $0-$5. This may sound strange, but scientist has discovered that coloring actually helps adults relax and focus. If you have children, you probably already have everything you need to color and relax right now. If not, you can get crayons and coloring books for cheap in most Dollar Stores.  
In the comments below, tell me what you like to do in your free time and if you play games what is your favorite casino games available on DoubleDown Casino?